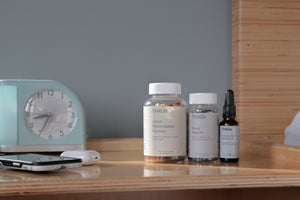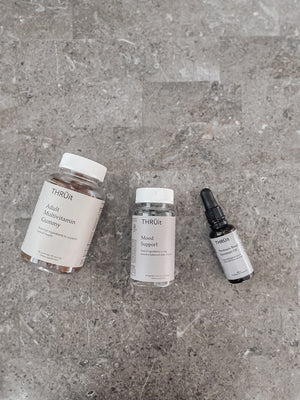 Quality supplements to help you take back the day.
LIVE HEALTHIER. FEEL BALANCED. SLEEP BETTER.
A better way to live
Whether you're looking for yummy vitamins to kick start your day, mood-boosting products to take away the worries, or a sleep-aid oil for a good night's rest, THRUit™ has you covered. 
Shop now.
Bestseller
The first & only regimen created for health, mood, & sleep. Our products are made up of nutrient-rich vitamins and plant-based oils taken daily to help you get through the day.
Shop now
How it works
1. Good morning. Start the day with nutrient-packed gummies containing vitamins for a healthy you.
Morning
2. Keep calm. These mood-boosting capsules are formulated to help keep your mind balanced.
Noon
3. Sweet dreams. A dropper of this premium broad spectrum oil can help you unwind and rest.
Evening
Don't take our word for it
★★★★★

Best gummy vitamins I've had. They don't have a "vitaminy" taste at all, which is super important to me. Honestly, just taste like a little treat for the day.
★★★★★

THRUit gummy vitamins are so tasty that I almost never forget to take them. Honestly a great quality and affordable supplement.
★★★★★

We love the multivitamin gummies and my kids always tell me when it's time to order more of their kid multivitamins! They love the taste and enjoy taking them with breakfast!
★★★★★

These gummies are best in the game right now. I take them in the morning and I feel energetic and pumped for work.
★★★★★

They taste delicious not like the ordinary vitamins that have that awful after taste or smell which, makes it easy for my children to take them and the best part is they have less sugar than most vitamins.
★★★★★

I bought these for my nephew and he loves the flavors. He gets excited every morning to take his vitamins.